Thursday, 01. January 1970.
Quality of life
Download: The Profile of Negotin municipality - sourcedata: DevInfo
Download: The Profile of Negotin municipality

Sports facilities
Negotin Municipality has a rich athletic tradition and a large number of registered sports clubs and sporting facilities. In the city itself, there are sports center with football court, an auxiliary courts, olympic and children's pool and others. A large number of sports facilities in the municipality is in bad condition and needed work on the reconstruction, rehabilitation and capital maintenance.
Cultural Institutions
Cultural Center "Stevan Mokranjac" Negotin
Cultural Center "Stevan Mokranjac" - Negotin , was founded in 1995. , with the primary aim to meet the needs of the citizens of Negotin in culture . The Cultural Center significantly expanded its activities so today,all thet means the cultural life in Negotin is now under the authority of this institution.
In addition to organizie the festival " Mokranjčevi dani , Cultural Center " Stevan Mokranjac " deals with theater, music , art , amateur , publishing and educational activities.Part of it is also the Cinema " Krajina" .
Cultural Centre has a hall for music and theatrical programs, capacity of 570 seats , galleries and office space.
Museum of Krajina
The Museum "Krajina" is one of the oldest museums in Serbia. It was founded in 1934. Several facilities are the part of it,The house of Stevan Mokranjac, Museum "Hajduk Veljko" and archaeological site "Vrelo" Šarkamen.
The Museum "Hajduk Veljko" is located in the House of the Duke Todorče. The exhibition is dedicated to the hero from the first Serbian Uprising, Hajduk Veljko.
Museum exhibitions in Hause of Stevan Mokranjac are consist of ethnological exhibition of original objects, photographs and documents from the life and work of Stevan Mokranjac. Šarkamen (Vrelo) is a late antique residential memorial complex. It is located about 25 kilometers from Negotin
Historical Archive
Historical Archive in Negotin as a separate institution, was established by a decision of the National Committee of Negotin in 1952. As in February in 1996. it have become a part of the Historical Archives in Negotin, it is a part of the archive department in Bor. Historical Archive is responsible for the municipality of Negotin, Kladovo, Majdanpek and Bor.




National library "Dositej Novakovic" Negotin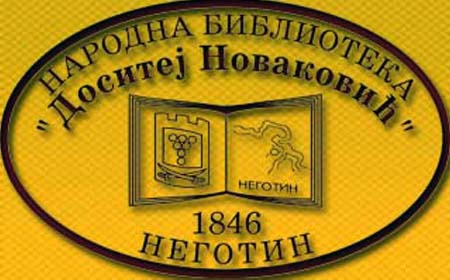 The library "Dositej Novakovic" is one of the oldest in Serbia, founded in 1846 year. Today, the National Library "Dositej Novakovic" is located in two buildings.
.
To open a PDF document, you need to install one of the free PDF readers.
If you do not have a PDF reader installed, click on the banner at the bottom of the page, download and install.
News
What is Factoring?
The Law that consider factoring , was published in the "Official Gazette of RS", no. 62/2013 of 16 July 2013. and entered into force. This Law is expected to improve the functioning of...
Saturday, 28. December 2013.